Cantilever Umbrellas
The advantage of a cantilever umbrella is that the post is offset to one side, therefore maximising the space underneath without interfering with seating arrangements and settings. They can be installed in both commercial and domestic situations and we offer a range of cantilever umbrellas to suit your situation.
In a domestic situation, cantilever umbrellas are a popular choice and often recommended for use around a pool or over an outdoor dining setting. The side post does not interfere with the area and remains unobtrusive whilst providing great shade coverage.
Ultrashade Cantilever Umbrellas
Ultra Shade offers two shapes in the Side Post range: Square and Octagonal.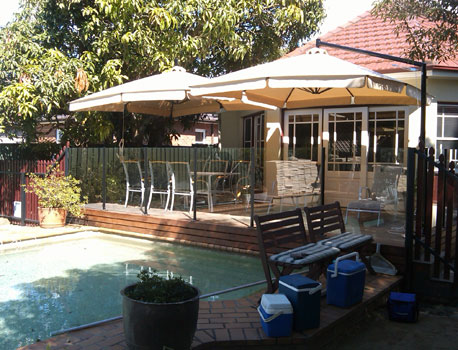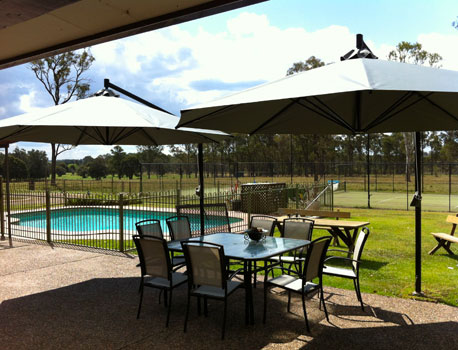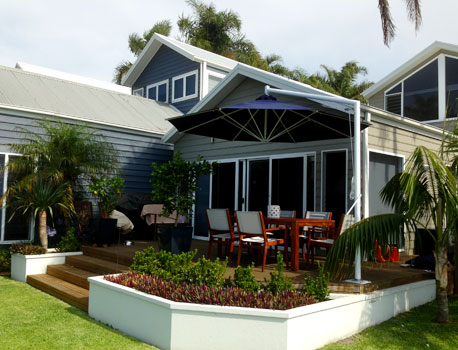 Octagonal Umbrellas are measured across the diameter at the longest point and are available in the following sizes:
| | |
| --- | --- |
| Size | |
| 2.5m | 4.8 sq m |
| 3.0m | 6.5 sq m |
| 3.5m | 8.73 sq m |
| 4.0m | 11.5 sq m |
| 4.3m | 13.2 sq m |
Square Umbrellas are measured down one side of the umbrella and are available in the following sizes:
| | |
| --- | --- |
| Size | |
| 2.0m | 4.0sq m |
| 2.5m | 6.25 sq m |
| 2.8m | 7.85 sq m |
| 3.0m | 9.0 sq m |
Ultrashade Umbrella bases are available in the following fixing options:
Bolt-down onto existing concrete, paving or decking

Concreted into the ground
Skyspan™ - Cantilever Umbrella
Skyspan™ offer both square and rectangular cantilever umbrellas. They are fully retractable and capable of being rotated 360° around their base, allowing the umbrella canopy to be positioned where it is best needed. This gives flexibility to providing shade in the warmer months, and retracting or rotating when shade is not required.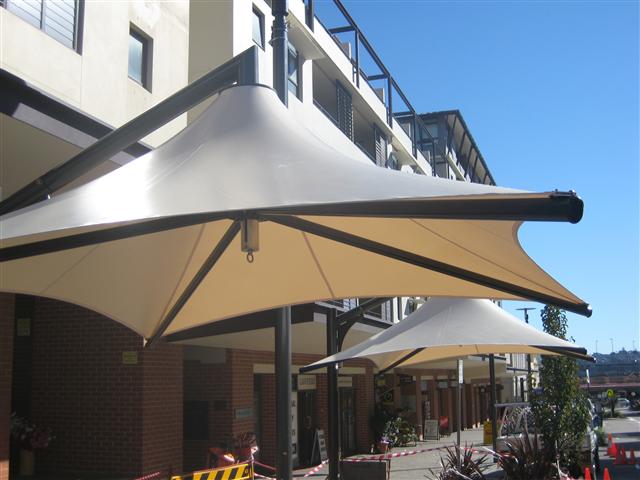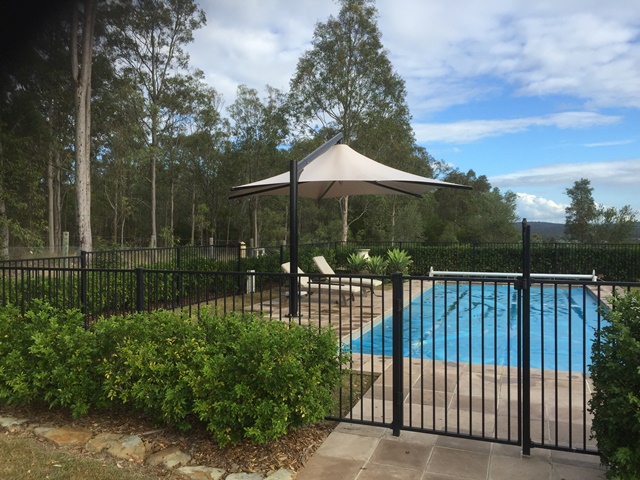 Options include: PVC Curtains, Lighting, Screen Printing, Rain Lips, Link Panels joining umbrellas, 360 Degree Swivel Base
Skyspan™ Vista Umbrella Range Specifications:
Square, hexagonal and rectangular shapes

Square sizes: 2.4m, 3.0m, 3.5m,4.0m and 5.0m sizing

Hexagonal sizes: 4.4, 5.0, 6.0m sizing

Rectangular size: 4 x 3m

Low maintenance, heat reflective, UV treated, fully welded membrane.

Stainless steel edge cable for even tension of roof material.

Mast and cantilever arm are structural grade steel which is galvanised and then powder-coated.

Arms are structural grade aluminium.

Retractable winding mechanism allowing for the arms to collapse in extreme weather.

5 year warranty on the frame.

2 year warranty on the canopy.

Engineered wind rated 112 kph open & 150 kph closed
Cantilever Umbrella Information
To see our full range of Cantilever Umbrella styles and options, view the Photo Gallery of our outdoor umbrella projects and download the product brochures -
Skyspan Vista 4 x 3M Rectangular Cantilever Umbrella (585 KB)
Skyspan Vista 56M Hexagonal Cantilever Umbrella (564 KB)
Skyspan Vista 5m square cantilever umbrella (563 KB)
Get a Quote or call 1300 668 187