Shade Structures
Shade structures are a cost effective option and can be tailored to suit the area big or small.
A great shade solution alternative for Child Care Centres, kindegartens, pre-schools and schools as they provide large areas of shade with few posts and the low permiter edges ensure maximum shade protection.
Hot dipped galvanised framework can be powdercoated to suit your colour theme.
The high quality shade cloth is available in a multitude of colours offering up to 99% UV protection.
Our shade structures photo gallery includes a variety of shade structure projects we have completed including standard rectangular shade structures aswell as waterproof shade structures and custom shade structures. Click on any photo to open the gallery to view.
Shade Structure Options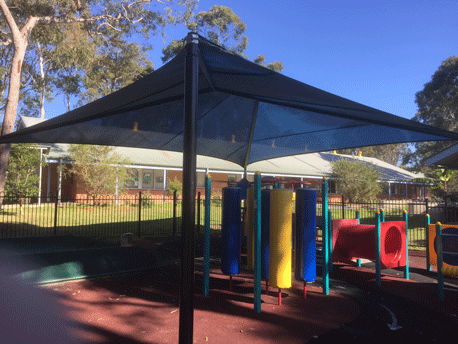 To see our full range of Shade Structure styles, colours and options, view the Photo Gallery and download the product brochures -
Dulux Powder Coating Colours (388 KB)
Rainbow Fabric (266 KB)
Tenara Sewing Thread (72 KB)
Get a Quote or call 1300 668 187