Ziptrak® Blinds
Ziptrak® Outdoor Blinds have a track guided system with no gaps and the blind can stop at any height. The revolutionary system means that you can create an outdoor room and provide protection from insects, rain, wind and sun glare.
Features
There are no cords or ropes and no rattles, even when partly closed.

You can leave the Ziptrak® blind open at any height

They can be locked down to provide a secure hold

Features a lightweight and simple operation

You can extend to up to 6 meters wide in shade mesh material and up to 5.5 meters wide in clear or tinted PVC.
Case Study
See our case study of
shade mesh Ziptrak® outdoor blind installation
at a cafe in Wollombi.
Options
Sunscreen mesh can provide privacy whilst maintaining the view through the fabric. Reduces sun glare and heat transmission. We have a range of stylish fabrics to choose from.

Clear (or tinted) PVC is a great way to extend an outdoor eating area and fully protect from weather events such as wind and rain. We often get asked to install PVC blinds in cafes or restaurants to increase seating capacity during inclement weather. We have also installed in homes to provide a protected area outside with no interruption to views.
Frequently Asked Questions
We often find ourselves running through the pros and cons of shade mesh and clear PVC as alterative materials for outdoor blinds.

Over many years of installation experience we have observed what works well in what situations what considerations there are to work through to make sure you get the result you are after. Here are some thoughts and comments:

Clear PVC

Is obviously fully transparent so there may be reason to select this as the optimum choice
Provides wind and rain protection
Does not provide sun protection
Is 100 % waterproof as a material
It does degenerate over time and will fade to a cloudy colour
Shows creases and crease marks may stay as white marks on the material
Can get very warm inside the clear PVC
Is not breathable and does not allow for air movement through the material
Maximum roll width for clear PVC is 1350mm therefore there tends to be more seams with this material choice than with shade mesh
PVC blinds tend to shrink and grow - they show distinct changes in characteristics depending on hot or cold weather

Shade mesh

Provides an element of privacy

Gives sun, wind and rain protection

Comes in a variety of colour options

Shade mesh is still transparent - can be seen out of but not into.

Allows air to circulate and maintain a more regulated environment

Although not 100% rain proof, shade mesh will provide an element of protection against the rain. Rain tends to hit the shade mesh and fall to the ground on the outside of the blind, the small proportion of water in a heavier rain fall that would make its way inside the perforations of the mesh don't travel very far.

Blinds can generally be made in one single sheet of material minimising seams within the blind.

Very stable fabric, doesn't shrink or expand.
Ziptrak® Outdoor Blind Range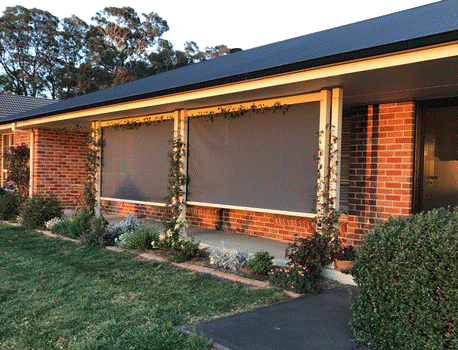 To see our full range of Ziptrak® Outdoor Blind styles and options, view the Ziptrak® Photo Gallery or our videos of projects using Ziptrak® blinds or download the product brochures -
Ziptrak Brochure (372 KB)
Ziptrak Outdoor Flyer (513 KB)
Get a Quote or call 1300 668 187