Shade Cloth Colours
Stylish colours and great protection.
The versatility and attractiveness of shade sails is increased when you see the choice of colours available. Blend into your surroundings or make a style statement - the choice is yours.
This shade cloth can provide up to 99% Ultra Violet Block and up to 97% shade, depending on the colour you select.

Fire rated fabric AS-1530.3

High tensile strength

Proven durability and longevity

10 year limited warranty

Unique construction with excellent cover factor

Great reduction in heat and glare

Safer filtered light transmission
Please contact East Coast Shade Design to find out more about the protection provided by the shade cloth colour you are interested in.
The shade cloth we use is independently tested to Australian Standard AS 4174-1994.
It is a high quality product that is perfect for both commercial and domestic applications.
Download a brochure of the fabric colour options or view the choices below.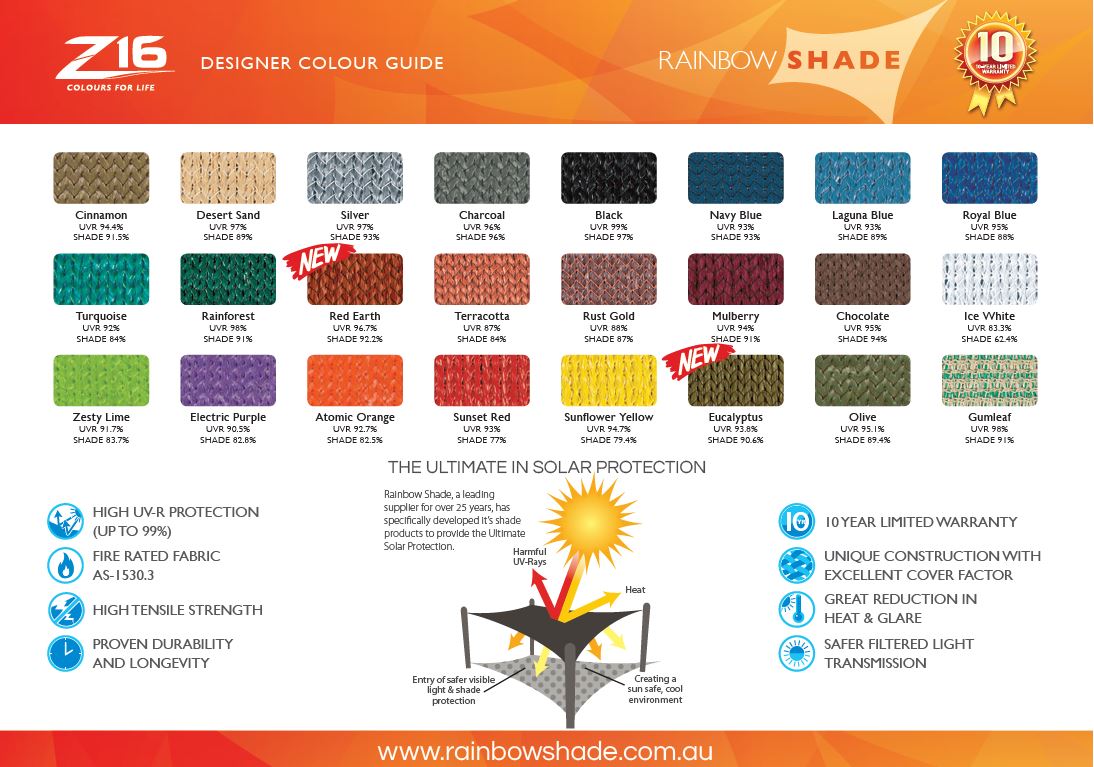 Shade Cloth Colour Options
| | | | |
| --- | --- | --- | --- |
| Colour | Colour Name | UV-R Block | Shade Factor |
| | Black | 99% | 97% |
| | Charcoal | 96% | 96% |
| | Silver Grey | 97% | 93% |
| | Ice White | 83.3% | 62.4% |
| | Desert Sand | 97% | 89% |
| | Cinnamon | 94.4% | 91.5% |
| | Chocolate | 95% | 94% |
| | Terracotta | 87% | 84% |
| | Red Earth | 96.7% | 92.2% |
| | Sunset Red | 93% | 77% |
| | Rust Gold | 88% | 87% |
| | Mulberry | 94% | 91% |
| | Sunflower Yellow | 94.7% | 79.4% |
| | Gumleaf | 98% | 91% |
| | Eucalyptus | 93.8% | 90.6% |
| | Olive | 95.1% | 89.4% |
| | Zesty Lime | 91.7% | 83.7% |
| | Rainforest | 98% | 91% |
| | Turquoise | 92% | 84% |
| | Laguna Blue | 93% | 89% |
| | Royal Blue | 95% | 88% |
| | Navy Blue | 93% | 93% |
| | Electric Purple | 90.5% | 82.8% |
| | Atomic Orange | 92.7% | 82.5% |
Get a Quote or call 1300 668 187