Skyspan Shade Umbrellas

Architectural umbrellas are a stylish way to provide shade for commercial or residential situations.
Please note - we currently have available 2 4.4m hexagonal Horizon Umbrellas - ready for immediate delivery.
Find out more and download brochure here.
Our umbrellas are manufactured by Skyspan™. East Coast Shade Design is a distributor of Skyspan™ umbrellas in the Newcastle, Central Coast, Hunter Valley and Nelson Bay region.
Skyspan™ Retractable Umbrellas offer the perfect combination of aesthetic appeal and structural integrity. To achieve this, only the highest quality materials are used.
Canopies are constructed of translucent architectural grade PVDF lacquered PVC coated polyester fabric that is waterproof and UV and stain resistant.

The aluminium framework is constructed from the highest quality structural grade aluminium - perfect for coastal locations.

Marine grade stainless steel catenary cables and fittings

Framework is powder-coated for a clean, polished finish and look.

Wind ratings up to 120 km/h are available.

Compatible with clear PVC blinds/ curtain systems, lighting and heating elements.

Screen printing is also available.
Options
The Skyspan™ Umbrella range is available with the following options:
Centre column, cantilevered and gazebo styles
Square, hexagonal, rectangle and custom shapes
Full colour range with corporate branding available
Range of accessories including lighting, heating strips, power, curtain systems, joining sections etc
Applications
We have installed Skyspan™ Umbrellas in a range of situations including residential, cafes, restaurants, bowling clubs, jockey clubs, resorts, hotels, aged care facilities, hospitals, schools and commercial businesses. If you would like to find out more about how Skyspan™ Umbrellas would suit your situation, please contact us.
Engineered and wind rated
Skyspan™ Architectural Umbrellas come with an Engineering Wind Rating Certification.
Portable Umbrellas: 60km/h

Vista adn Sunset ranges: 112km/h open and 148 km/h retracted

Typhoon and Panorama (cyclone rated) 148 km/h open
Photo Gallery
Check out the photos of Skyspan™ Umbrella projects that we have completed in the Sydney, Newcastle, Lake Macquarie and Hunter Valley region.
Fabric and Frame colours
Skyspan™ offer a complete range of powdercoating colours from the Dulux Interpon range for frames and a comprehensive set of canopy colours from the Ferrari 502 colour range: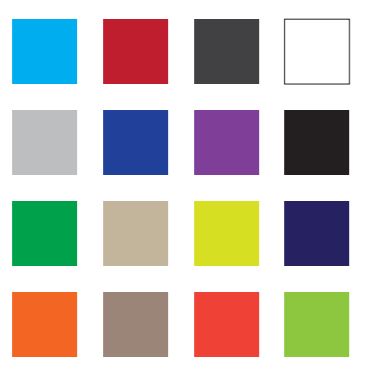 Skyspan™ Umbrella Range
To see our full range of Skyspan™ Umbrella styles and options and more detailed specification information, view the Photo Gallery and download the product brochures -
Skyspan 4m Horizon Umbrella (566 KB)
Skyspan 4m Sunset Umbrella (591 KB)
Skyspan 4m Typhoon Umbrella (576 KB)
Skyspan Umbrella Mahler Fabric Cleaning Instructions (71 KB)
Skyspan Umbrellas (4797 KB)
Skyspan Vista 4 x 3M Rectangular Cantilever Umbrella (585 KB)
Skyspan Vista 56M Hexagonal Cantilever Umbrella (564 KB)
Skyspan Vista 5m square cantilever umbrella (563 KB)
Get a Quote or call 1300 668 187