ZIPTRAK® Outdoor Blinds
Myrtle House Cafe - Wollombi - Case Study
Mrytle House Cafe s a beautiful timber cottage located within the historic village of Wollombi. It features a thriving cafe with wrap around timber decks. At the time that we quoted for outdoor shade blinds, the new owners were racing to complete renovations to give the building a new lease on life.
Scope
The wrap around decks are a popular feature of the cafe, but needed protection from rain and the afternoon sun. Table settings located at the edge of the veranda meant that water resistance was a priority. The outdoor blinds must be easy to operate with minimal impact on the aesthetic of the building.


Challenges
I love the character of the cottage, and the client's were doing an amazing job on the restoration. It was clear that our outdoor blinds needed to fit the bill. Add to this the short time frame before the cafe was due to open which meant we needed to push to meet the deadline.


Product
It was an obvious choice to use motorised Ziptrak® outdoor blinds to meet the client's brief. This product would be super easy (touch of a button) to use, and as they include the guided side track system, would not leak through the side edges of the blinds.
Outlook Mode was the fabric of choice, making use of it's great shade qualities and resistance to water.

Alpha motors with wireless remote operation completed the brief proving to be very cost effective.
The old house features chunky wide verandah posts and by mounting our blinds to the inside face of these, we were able to hide our side tracks (and disguise that the posts were way out of plumb!). The blinds along the front of the cafe were exposed and required hooding to protect them from the elements. I was super conscious of maintaining a neat appearance for these outdoor blinds, as these were what is seen from the street.

All of the hoods, brackets, tracks and bottom rails were white in colour which is a standard Ziptrak® colour. Many other colours are available had this been required.


Result
We pulled out all stops to get these outdoor blinds installed in time and were on site on the evening before the grand opening making sure that everything was perfect. It was fun being part of the tribe of trades working together to get it finished.
From my perspective it was a good challenge. I was really proud of the result. More importantly, our client's were really happy!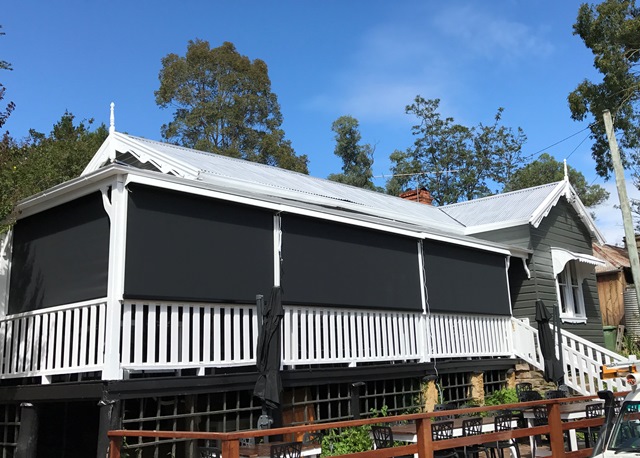 Contact us with any questions about Ziptrak outdoor blinds and how they could be used to solve your shade issue.